A charming find . . . .
I spent last Saturday with my mom and a few close friends at a beautiful Tea House ~ celebrating my birthday.
Lisa, also a flower-enthusiast and gardener, presented me with a Moonlight Parfait Mandevilla. The beauty of its flower captivates me. They resemble a pink trumpet flower, but with a most beautiful feature . . . a rose-like double center. So feminine.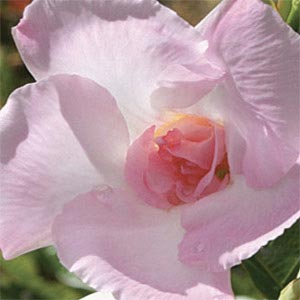 This charming find is exclusive from Monrovia
Those close to me know that I love to stroll through gardens and appreciate their inherent beauty.
My garden is modest and very dear to my heart. Each fern, rose, and flower has a special story and meaning behind it.
I tend to it often, and find solace there when I need a little peace and quiet from a busy day. I've found it to be a pleasant place to enjoy a cup of tea and relax with my favorite magazines.
I am so happy to add this beautiful & charming flower to my garden.
A few charming facts . . .
The moonlight parfait mandevilla has
enormous trumpet-shaped, semi-double blossoms that occur all
summer, and even longer in frost-free zones.
Its pink buds open to white, trumpet shaped blooms
with a rose-like double center that are iridescent under moonlight.
Cooler temperatures cause flowers to blush pink

.
This vigorous plant with glossy, green leaves will
climb into trellis, lattice or arbor, and even drape over fences.